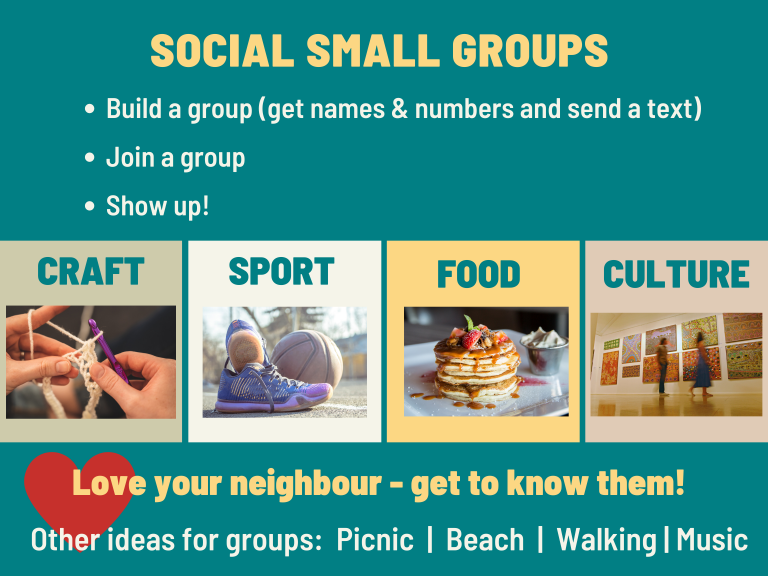 Strengthen your friendships (and make new ones) at Church in the Marketplace.  Join a social small group!
During the COVID-19 era it has been difficult to connect socially with people at Church.  Now that we are allowed to gather in smaller numbers we thought it would help people to reconnect if we form some small groups based on personal interests.
Below is a list of some suggested groups we will be forming.  They are very informal – but do require a "co-ordinator" to gather phone numbers or other contact details and make sure that a notification is sent to the group when a new event is planned.
So please sign up for a social small group.  Choose something you love and participate with your friends at Church in the Marketplace!  Please email the church office [email protected] if you would like to join or co-ordinate a social small group (it would be good to have more than one co-ordinator for each group).
| | |
| --- | --- |
| Name of Group  | Co-ordinator/s |
| CWAC (Craft with a cause) | Bronwyn Chapman |
| Sport | Looking for a volunteer |
| Food | Looking for a volunteer |
| Culture | Looking for a volunteer |
| Picnic | Looking for a volunteer |
| Beach | Bronwyn Chapman |
| Walking | Looking for a volunteer |
| Music | Looking for a volunteer |